From May 5th onwards the monthly open house will be organised by Wooncoöperatie Tiny House Alkmaar. I have neighbors now, so you can visit multiple Tiny Houses!
Please check our website www.tinyhousealkmaar.nl for more information. I'm afraid it's in Dutch, but mostly the information is similar as below. If the open house is cancelled due to bad weather or otherwise, we will post a notice on this page: http://www.tinyhousealkmaar.nl/open-dagen/
Below is some outdated info on the previously organised open house days:
There are not many Tiny Houses in the Netherlands as of yet and many people ask me if they can come visit my Tiny House. Though I understand completely that people would like to see my house up close and it makes me happy to see that there is so much enthusiasm for my house and Tiny Houses in general, this is my home and I do need a little peace and quiet sometimes. Still, I find it important to give people a chance to see a real Tiny House. It is not until you get a good look at an actual Tiny House that you know what it's all about. That is why I organise an 'open house' afternoon on most every first Saturday of the month, you are welcome to visit between 1 and 4 PM. On other occasions I only receive visitors with an appointment.
The address is: Helderseweg 28 in Alkmaar, if you use navigation you best enter Lisdoddestraat instead. My house is located at walking distance from the train station in Alkmaar. You don't need to apply for the open house days.
On rainy days the open house is cancelled.
You see, it is no fun waiting for your turn to go inside when it pours, when there are already too many people inside. Besides that, more than 5 pairs of shoes don't fit on my doormat ;) So if the weather forecast predicts heavy rainfall my house will remain closed for visitors. Check the weather forecast before coming over. We can manage a little shower every now and then but if it rains most of the afternoon, it's better to schedule your visit another month. My house will not drive away just yet. You will surely get another chance!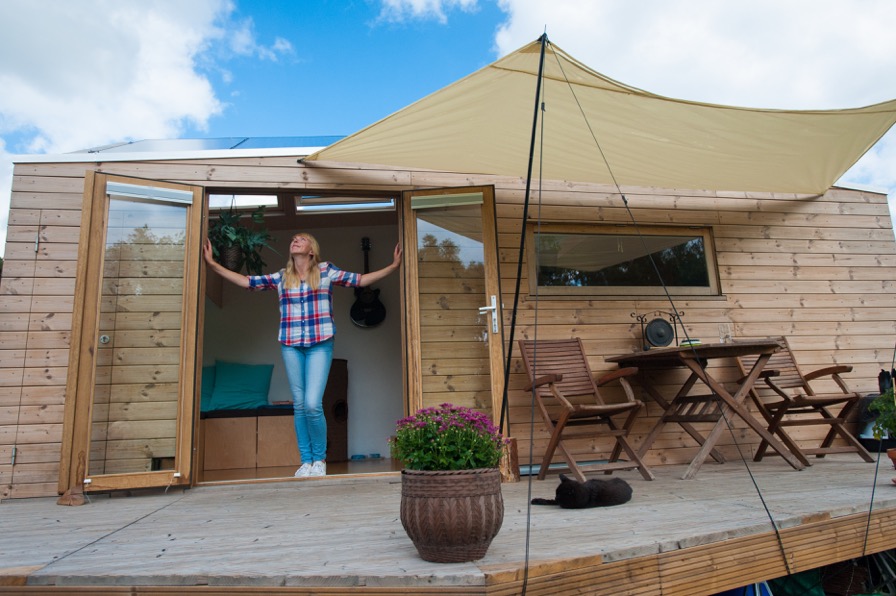 Picture: Marlies Deen