The build of my Tiny House started in February 2016 and was finished on May 22nd 2016. The design was created by Lena van der Wal, Laurens van der Wal and Vincent Höfte from Buro Walden and Dimka Wentzel from Tiny-House.nl was the actual builder. Below you will find a photo summary of the build.
May 30, 2016
My Tiny House is finished and was transported to Alkmaar, where I am allowed to live in it with permission from the city council! Lena van der Wal from Buro Walden shot some awesome pictures first, which you can find here.
And this is my house on location! As you can see we built a temporary 'cage' around the deck, this is a precaution for my two cats Hella and Jack. They have to get used to a new home and new surroundings, this way they won't run off. On June 14th the cage will be removed again, I think by that time they will have gotten used to their new home and will be free to roam the area and enjoy their new hunting grounds.
May 10, 2016
The solar equipment from Victron Energy and DPS de Pittenspecialist was installed, you can find pictures and an explanation on this blog. Marianka from Victron made a cool video about the installation!
Recently I wrote a blog about the siding that was used on my Tiny House, and a description of the way the walls, roof and floor were built up. You can find it here. Two weeks to go and my house will be finished!
April 22, 2016
The Bruynzeel kitchen was delivered and installed, what a beauty! I'm so very happy with it, I will have loads of fun with it. Other than that Dimka has been busy with the Modiwood siding, which fits perfectly with the window frames from Jacobs Timmerfabriek. You are such an amazing craftsman Dimka, it looks awesome!
April 12, 2016
My Tiny House has made its first miles on the road, off to be weighed! This was a bit of a nervewracking moment, but with the help of Dimka, Bauke and his Landrover everything turned out allright. And the weight was better than expected, 2560 kg! The maximum is 3500 kg, if we want to move it with drivers license BE, and the house is not yet finished. So we will have to stay sharp and weigh the materials we're going to use.
April 10, 2016
Koen Derksen shot a new video about the build of my Tiny House, this time starring Dimka from Tiny-House.nl:

April 10, 2016
Sorry, sorry, I haven't posted any new pictures for way too long, I know! A lot has happened. The roof was lined up with epdm, the loft now has a slatted bottom for the bed, a start was made with the seating and storage area, the Hobbit woodstove was delivered, the Modiwood siding and deckboards were delivered and I drove all the way over to Belgium to pick up my sitting bathtub. That's all for now, I bet you would rather look at the pictures anyway! :)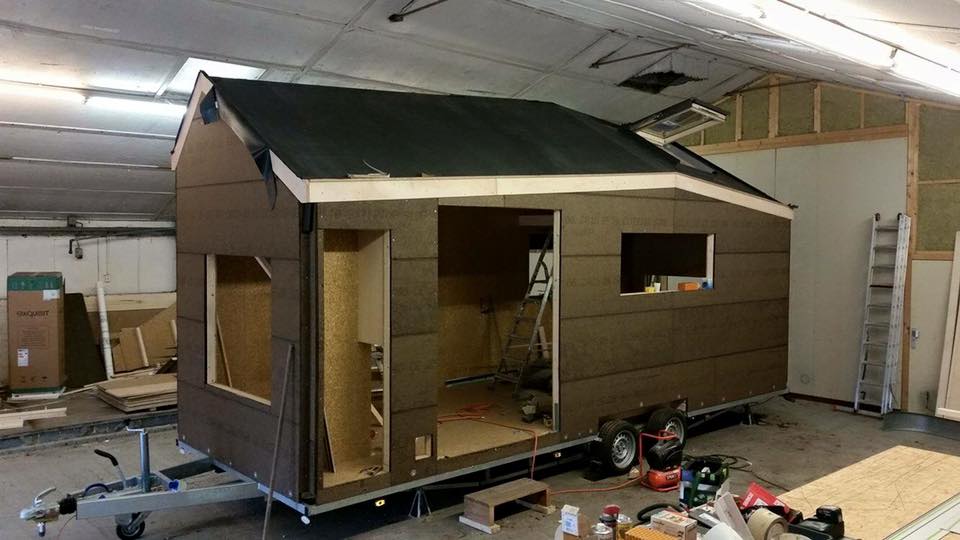 March 19, 2016
Today the whole team was present, Lena van der Wal from Walden shot some beautiful professional pictures of the house and our team. There's quite a difference from my crappy pictures, thanks Lena! Dimka needed some extra hands to get the epdm on the roof, but with help from Vincent, Laurens and Joost it worked out fine. Joost is a friend of mine who came to see the house being built. I believe he approved of it, didn't you Joost? The last 3 pictures were made by me. Oh well.. we can't all be pros with a camera ;)
From left to right: Lena van der Wal, Dimka Wentzel (on the roof), Vincent Höfte, Marjolein Jonker, Laurens van der Wal.
March 14, 2016
The Velux skylights are being installed, the walls and roof are being insulated with sheepwool and Celit woodviber plates.
What a woolly house! I like it, you can hug the walls ;)
March 11, 2016
Dimka has been busy with the roof and the gutters this week. On the inside there is birch multiplex on the roof, insulated with sheepwool and Celit woodviver plates. It looks a bit like overkill, all the stairs and scaffolding! :P
March 10, 2016
Koen Derksen created the documentary 'Een kleine verandering' last year, you can follow his work through his Facebook page. This time Koen shot a great video of me giving a tour of my Tiny House:

March 05, 2016
Dimka has been working on the construction of the roof and the loft, with some help from Johan and Carolin. Next week the birch multiplex from Stiho will be delivered so he can continue building the roof!
February 22, 2016
Week two of the build is behind us, and it is turning into a real Tiny House already!
Check out the pictures in this blog post.
February 20, 2016
Please see this photo summary of the first week of the build of my Tiny House.
February 03, 2016
This is the preliminary design of the interior of my house, nice and light! Can you see me sitting down in that lovely seating corner?
January 17, 2016
The trailer is delivered! It was designed by Dimka Wentzel and Bernhard Hoerl, produced by Vlemmix. The trailer was specifically designed for the build of a Tiny House, this model is extra low and can be shortened.
This is the design of my Tiny House, on an imagined location. The measurements are 6,6 x 2,55 x 4 meter, including the loft the house measures around 20 m2.
This is the design as seen from above. The bathroom is situated to the right, next to it is a kitchen area (below) and a desk area (above), a place for the woodstove and a seating and storage combo. The stairs to the loft also has storage in it and provides room for the fridge. For more info on the design please see this blog post from December 1st 2015.