Hello, my dear. I would like to talk to you. I want you to know how I feel, the sadness about what we are doing to ourselves and our beautiful planet. Not because I want to make you feel bad, but because I want so badly for you to join me in resisting the course humanity is on, and to fight for a better future. I would really like you to understand where I'm coming from, although I find it very difficult to explain why this topic is so important to me. Why I think it's so important that you realize this is of the utmost importance to you too. Would you be so kind to listen to me for a moment?
You have probably heard before about the concerns I have about how we interact with the Earth. The loss of biodiversity, climate change, the deterioration of soil quality and the massive death of animals. You have probably also seen or read reports in the news. You can't escape it anymore, even in the mainstream media. But I believe it is not enough to make you realize in how bad a shape we actually are in today.
And you may think this is on my mind so much because I'm in a "green bubble" and it's just my interest. Believe me, I would rather not lie awake at night with tears in my eyes because it hurts and saddens me so much to see us destroy the planet and each other bit by bit. I don't choose that. I would much rather be carefree, go out with friends, have fun and do a little work. But my mind is occupied with these issues every day. Because we are at a dead end. We cause so much suffering along the way to ourselves but also to all other animals, plants and other life with which we share this Earth. And because I know there is another way.
The ecological and climate crisis is here.
Ik was born in 1975.
And so on.
The crisis has not just begun, we are in the middle of it and the time we have to ensure the quality of life on our planet for future generations is really running out. Even our generation is going to be very much affected by extreme weather, food scarcity, migration of climate refugees, and rising sea water levels. It is in full swing and is moving much faster than the mild predictions made so far. And our government is nowhere near doing enough to turn the tide, and the companies with the greatest influence are only exacerbating the problems, even if though they know better.
I also know that it is becoming increasingly difficult to discover the truth in the flow of news stories. There is so much misinformation and there is a contrary opinion for every story. What are you to believe, when even science is influenced by money and the government is influenced by the lobbying of big corporations, that have interests other than the welfare of the entire planet and all of humanity? Here's my advice: trust your heart.
Take the time today to find a quiet spot in nature. In your garden, in the park, on the waterfront. Hopefully the weather will be nice and you probably need a break anyway. Sit down and look at the grass. To the trees. To the insects buzzing around. Is this the same world you grew up in? What's different? What does nature tell you? Listen to her voice if you can.
And then listen to your own voice, deep down. What is your truth if you dare to face fear and discomfort? Is the road that we as humanity are taking leading us towards a good future? Or does it lead to a barren, polluted world with fewer and fewer animals and plants to enjoy, an air that we can hardly breathe, an environment of concrete and plastic where life is almost impossible?
Think about the old days, when you went for a drive with your family and after an hour you had a windshield full of squashed insects. How crazy is it that you don't experience that anymore? Think about the seasons; how wet the summers were and how you sometimes had snow in the winter. Think about the weather; how different it was then: fewer frequent storms, shorter periods of drought, less warm summers. Think about the supermarket and what you could buy there. Strawberries were there in the summer, but not all year round. What does it mean that you can now buy fruits and vegetables from all over the world all year round? Was it so bad to have to wait for the right season, or was it something you were looking forward to?
Last Friday, I blocked the Zuidas in Amsterdam together with about three hundred people in an Extinction Rebellion campaign. The Zuidas is the financial heart of the Netherlands. But this financial heartbeat has gone haywire. The cabinet is mainly thinking of the financial health of multinationals and not of the health of the Earth and all its inhabitants. The door remains wide open for polluting companies, but for the citizen concerned about the climate, the door remains closed.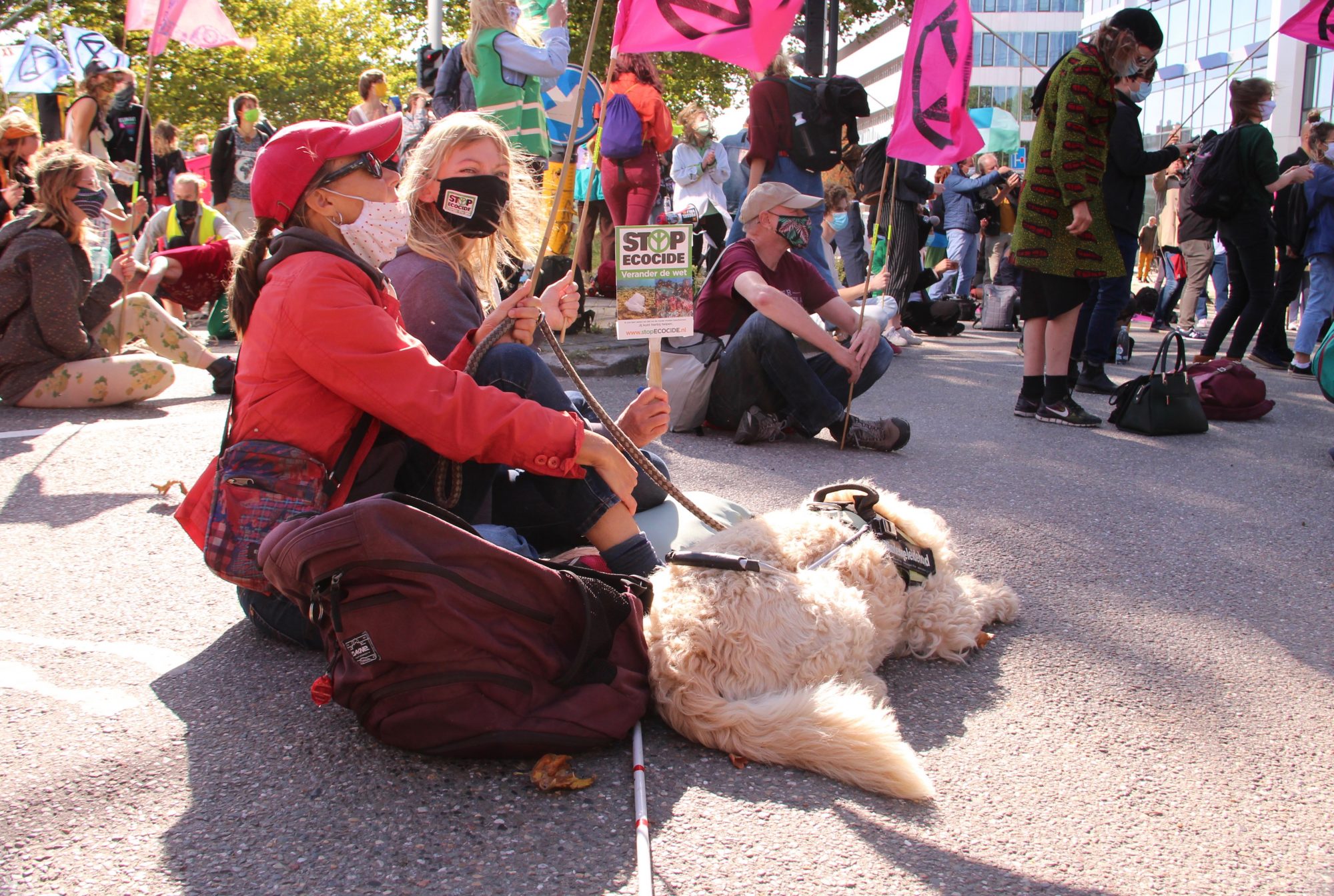 Many other organizations such as Stop Ecocide NL participated in the campaigns and there were demonstrations on the Museumplein all weekend. Influential people such as Jan Terlouw, Marjan Minnesma and Jan Rotmans expressed their support. People from all walks of life gathered to demonstrate and call for a stop to the corporate lobby and to appoint a civic council. Ordinary people from all over the country and of all ages, who are deeply concerned about the climate and environmental crisis. Entrepreneurs, students and employees who took time off from work and study to let their voices be heard. Because they cannot stand by and watch us steer straight into the abyss. It felt so good to be there with them doing something.
Dear human being, join us. Only together can we turn this mammoth tanker around. It's not about having done little or nothing this far. It's all about getting up and speaking up now. Join the group that chooses life. All of life. You are so very welcome and needed. Below I give you a few suggestions for organizations that you can join. You can donate, sign petitions, engage in conversation with your friends and family, and participate in demonstrations. Please join the growing peaceful resistance. Thank you for listening to me!
For the Dutch readers:
International:
Pictures: Hans van der Vecht and Stop Ecocide NL