It's been a little quiet for a while; I wasn't having three interviews and photo-sessions a week anymore. I didn't mind at all though; it was a lot to handle this last year. I love doing it, but it shouldn't become a 24/7 thing, if you know what I mean. But hey, it also makes me happy to see a good article with my input in a magazine. And it makes me a little proud too. This week was another busy week though – lots of attention for the Tiny House movement in the media again!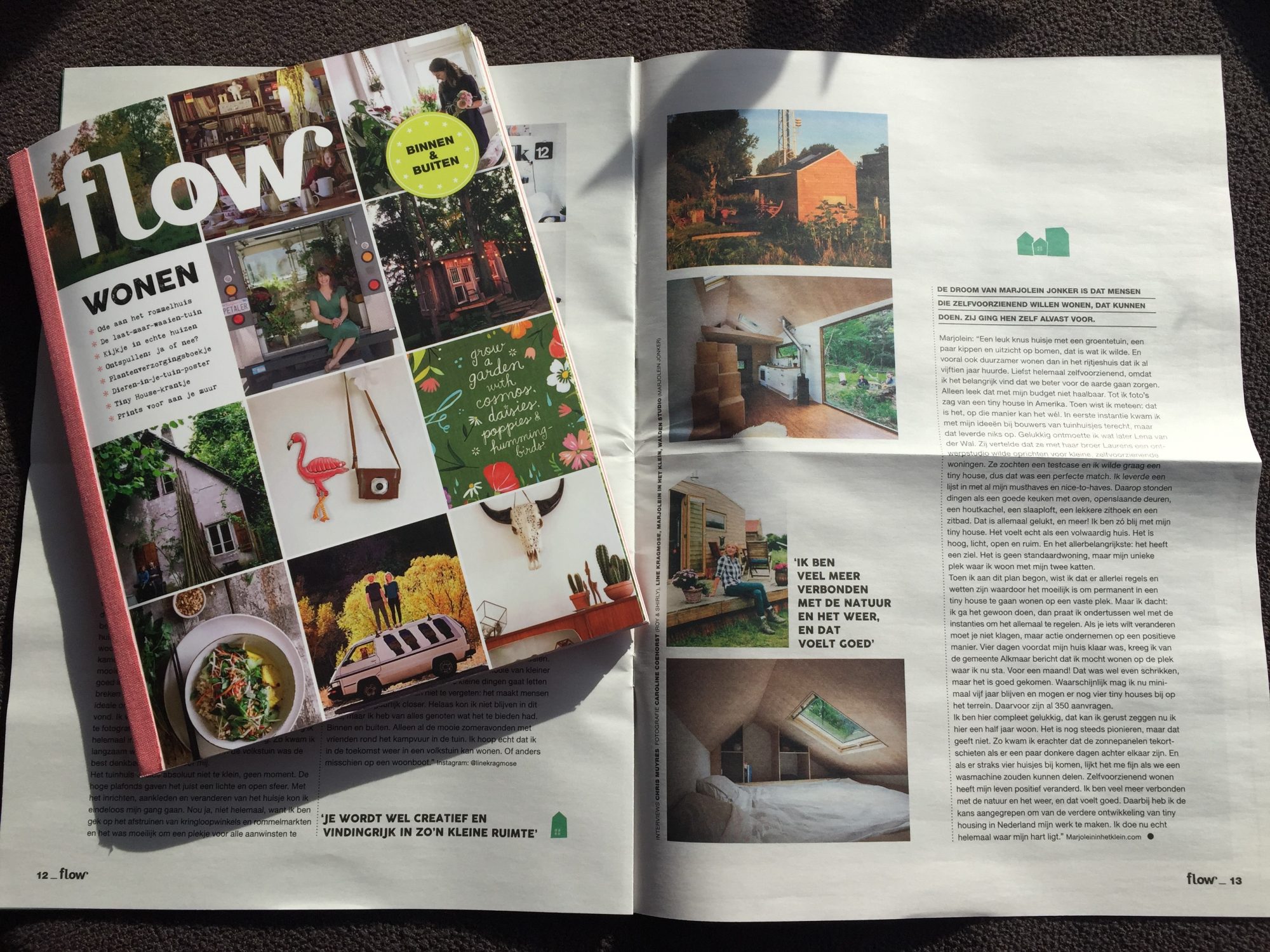 It started with Oscar and Hildes vlog, which they shot in February. They have a new YouTube channel called 'Finding a better way to live', in which they search for sustainable forms of living. Of course, that means a visit to a self-sustaining Tiny House, so they came by and made this cool video. Oscar came up with a title song for me on the spot, haha brilliant! I love it when a visitor picks my guitar from the wall and plays a tune for me, because I'm rubbish at it ;)
But wait! Before that, I was a guest at BNR news radio on Monday for an interview as part of 'the week of money'. And, of course, while driving to the studio I ended up in a traffic jam from hell, because of a small fire in the Schiphol tunnel… I left home at 5.15 PM, I had to be there at 6.15 PM and eventually entered the studio at 6.30 PM. I wasn't going to make it…I called editor Tom: 'I'm almost there, my satnav says I'll be there at 5:26!'. A few minutes later: 'I'm not going to make it, it's completely jammed!'. At 6.34 I raced into the parking lot and ran to the entrance where Tom was waiting for me, and he took me straight to the studio. I did the interview and went back home – I think it lasted no more than 10 minutes – only to end up in traffic again. I got home at 8.15 PM. Oh well, sometimes you've got to sacrifice some time for a good cause, right? ;)  You can listen to the interview here,it's my turn at 2:36.
This week the Flow special on housing and interior design came out, with a beautiful paper dedicated to Tiny Houses. So informative and fun, this Tiny paper! Apart from my house there are plenty of other Tiny Houses to be found, like the one belonging to Roy and Shirley. And Tiny House Nederland is mentioned a lot! Well done Flow, thank you so much!
Next to that, Libelle posted an article on minimalism and living small, where my house and the Tiny House van Martijn en Irene got some attention. Dieuwke from Moeders Minimalisme shared her story about her search for a minimalistic lifestyle.
On Thursday I was also interviewed by NH News, Radio and Television in response to my blog on the developments in the Tiny House pilot in Alkmaar. Tom Jurriaans has been to my house in earlier days, when I had just moved into my house, to film for NH News. He'll also talk to the people from the water board Hollands Noorderkwartier, so that both sides of the story are heard – as it should be. The item should be aired today.
That's it for now! And that's enough for one week, don't you think? You can see a list of all (online) media on my page 'Marjolein in the media'. It's growing to be quite a list already. The videos are also on my Youtube channel and my page 'video'.
I almost forgot! Tomorrow there's an open house between 13.00 and 16.00 p.m., maybe I'll see you there! Nevertheless, I wish you a good and sunny weekend. Also from diva Hella by the way! ;)