Yeah, yeah, I know, a new Tiny Cuisine was long overdue. But here it is, finally, with a few delicious recipes you can prepare in your Tiny House during the winter. Or in the summer, or in your regular kitchen, you can do it pretty much anywhere, anytime, haha! But I've cooked these in my Tiny kitchen. I hope you will try them, because they are absolutely worth it!
Breakfast pancakes with cottage cheese
This is my favorite weekend breakfast! Honestly, I love these pancakes. I eat them without any toppings, that's how much I like them. With this amount of batter, I have enough for breakfast for two days, and they are really filling as well. I make 4 little pancakes at a time, which I gobble down rolled up. Yum!
Ingredients
1 cup of cottage cheese
100 ml of (almond) milk
1 cup of buckwheat flour
4 eggs
1 ts of vanilla extract
Pour everything in a high (mixing) cup and mix through with a hand blender. Pour some of the batter in a heated frying pan with a little (coconut) oil and bake until light brown on both sides. Roll it up and eat them plain or with a little drizzle of maple syrup.
 Pumpkin flaps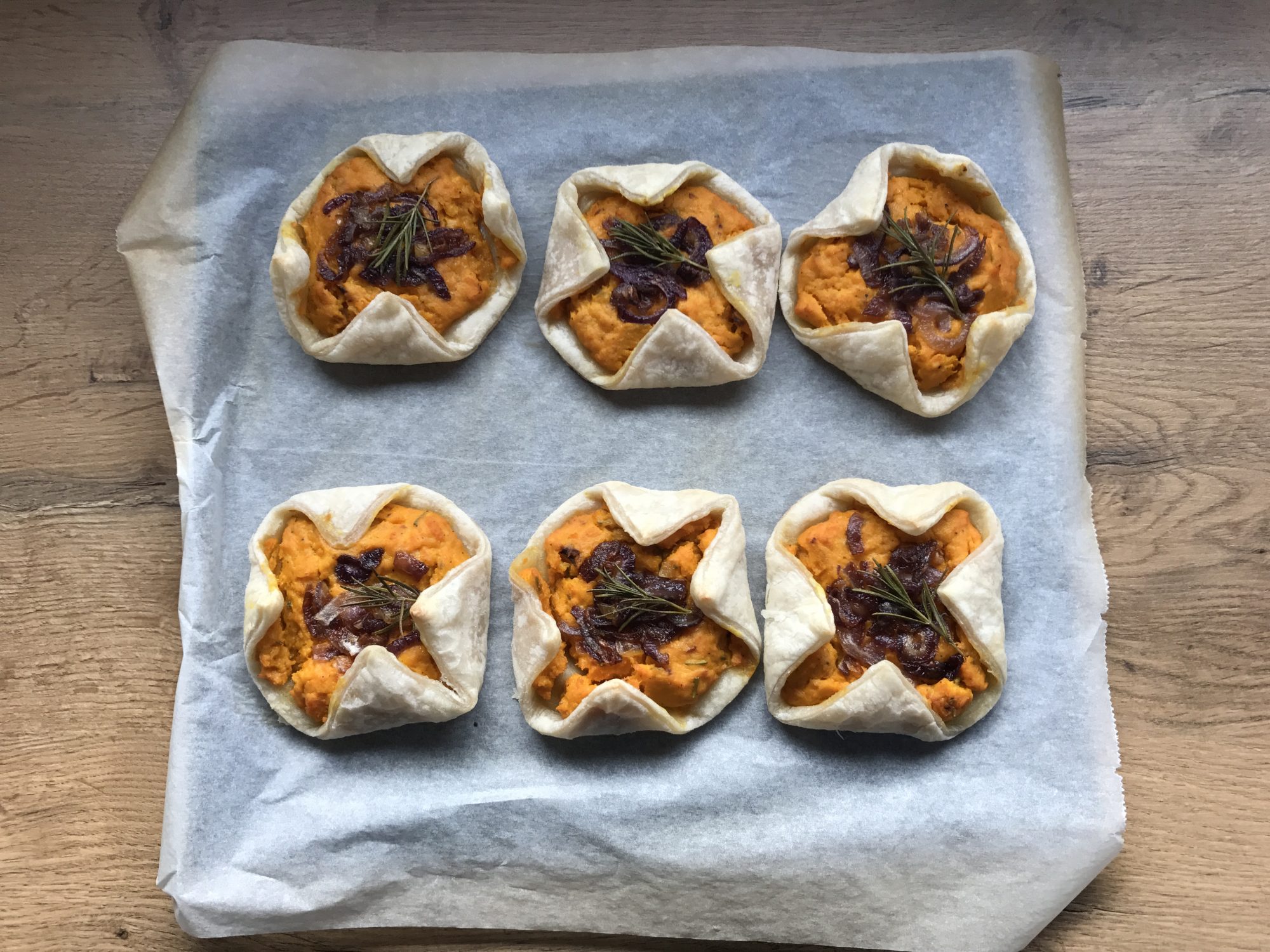 This recipe belongs to De Groene Meisjes. it's completely vegan and a perfect entrée for a fancy dinner party. I made it for Christmas and everyone liked it very much! I used Moin vegan puff pastry from Ekoplaza, it's really good! You can find the recipe on the website of De Groene Meisjes: http://www.degroenemeisjes.nl/bladerdeeghapjes-met-pompoen/
Smoked sausage cassoulet
I'm not completely switched to eating vegan or vegetarian yet. But, I continue to cut down on my meat consumption and when I do eat meat, it's a mindful decision and the meat is from the organic butcher or other supplier that takes good care of its animals. This is a recipe I make every now and then, in the slow cooker. It has to be on a sunny day though, otherwise I don't have enough electricity ;)
Ingredients
A few slices of bacon or a packet of minced bacon
300 gr of finely chopped onion
1 ts of dried thyme
½ ts of dried rosemary
3 cloves of garlic, chopped
½ ts of salt
½ ts of freshly ground pepper
2 cans of tomato cubes
2 can of cannellini beans, drained
500 gr of pork loin, diced
1 pork smoked sausage, sliced
Parmesan cheese, grated
Chopped fresh parsley
Fry the bacon in a large frying pan until crisp. Take them out and crumble it. Add the onion, thyme, rosemary and garlic to the fat in the frying pan and cook for 3 minutes. Stir the bacon, salt, pepper and tomato cubes through and bring to the boil. Take the pan off the heat.
Pour half of the beans into a large bowl and mash them into a puree. Add the rest of the beans, the pork loin and sausage and stir through. Pour half of this mixture into a crockpot (slow cooker), pour half of the tomato mixture in, and repeat with the rest of the beans and tomatoes. Put the lid on the crockpot and let it simmer for 5 hours. Don't stir! When ready, serve in bowls with some parmesan and parsley on top.
Paleo crackers
These seed crackers have been waiting on my to do-list for a long time, but I thought it would be a hassle making them. It's not! And they're really tasty, especially if they're still a little warm. They're super healthy too and gluten-free if you happen to have coeliac disease. Unfortunately, I won't be making them for a while since I just got braces this Tuesday…but you can make them! You'll need a baking ring for them, you'll find one for less than 2 euro at the cooking shop.
Ingredients
4 tbs of broken flaxseeds
3 tbs of chia seeds
3 tbs of sun flower seeds
3 tbs of pumpkin seeds
3 tbs of sesame seeds
1 tbs of almond flour
1 egg or egg replacement
Himalayan salt according to taste (don't overdo it)
A splash of lukewarm water
Mix all the ingredients in a bowl and let it rest for 10 minutes, so the water can be absorbed by the chia seeds. The chia seeds act as a binding agent. Lay a sheet of parchment paper on a baking tray and preheat the oven at 190 degrees Celsius. Place the baking ring on the paper on the baking tray and scoop 1 to 2 tablespoons of the mixture into the ring. Press thoroughly but gently, make it about ½ cm thick. Repeat with the rest of the mixture. Place the baking tray in the oven. Turn the crackers after about 10 to 12 minutes, do this gently. After 10 more minutes they're done. Top them off with hummus, for example. You can add extra ingredients to the mixture like grated cheese, herbs or chopped sundried tomatoes.
Bon appetit!