It is a major time of change! This suits me very well. I like change. Same old same old for too long and I get bored. I also believe that every now and then you should make room in your life for new things. Therefore, I decided, after five years of working very actively for the Tiny House Nederland foundation, to say goodbye to the core team. It was an emotional decision as well, l but I consider that to be a good sign.
My energy was running low; the stretch was gone. I had the feeling that I had given almost everything I had in me and that the time had come to withdraw. A time for cocooning, contemplating my life, in order to start something new with fresh enthusiasm and a renewed sense of purpose. Such a decision does not happen overnight; it takes quite some effort. A little fear and uncertainty came into play: "Is this really wise?" "Are you not throwing away opportunities now?" "Are you not going to miss it?" You probably recognize it. Ultimately, I listen to my heart and that always tells me the right way. And I think any choice is right as long as you make it. Getting stuck in a jacket that no longer fits – that only works against you.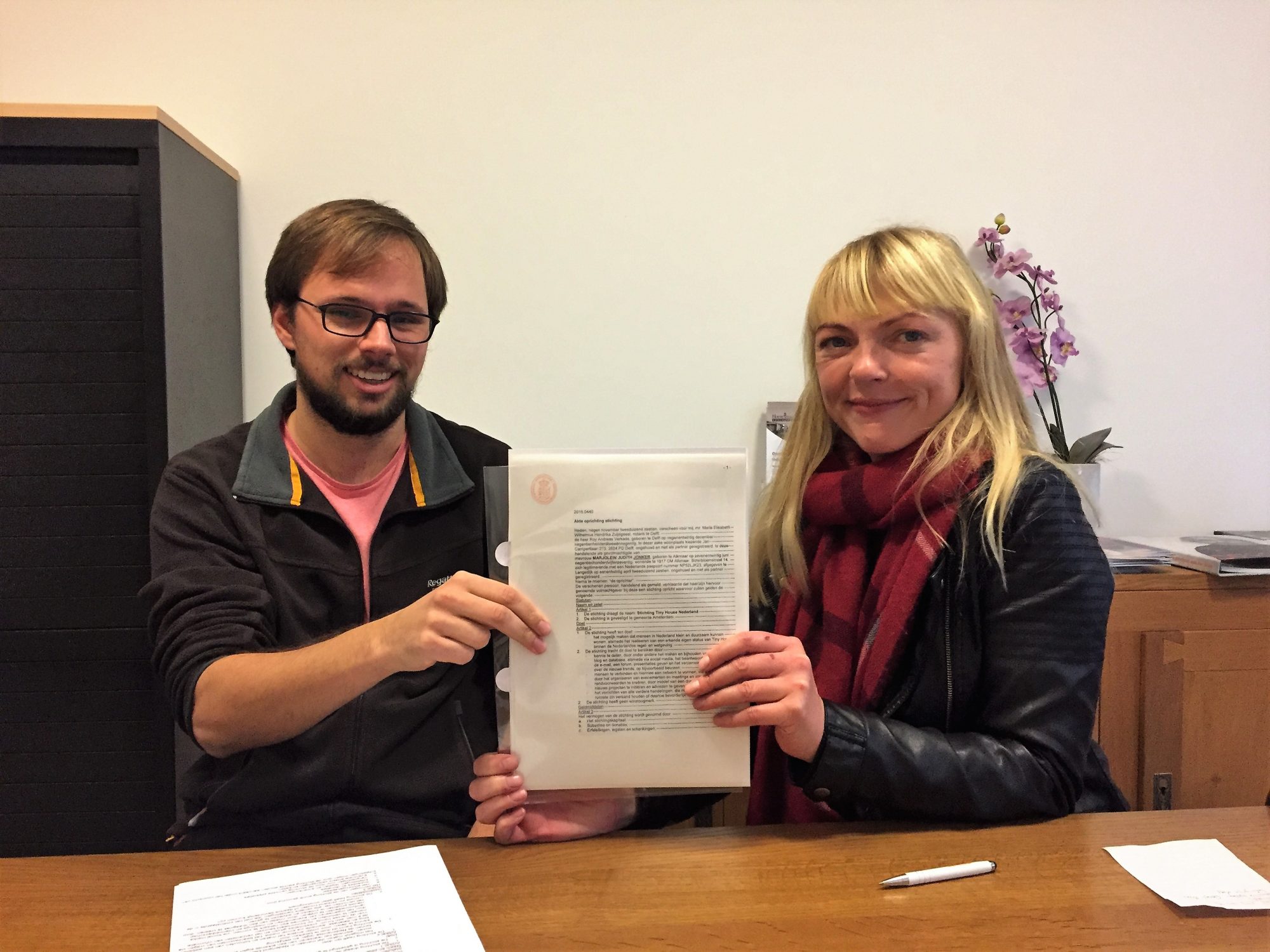 Koen Derksen and I, holding the freshly signed deed of incorporation of the Tiny House Netherlands foundation.
Tiny House Netherlands began with a Facebook page that I started in 2015, as Natasja described so beautifully in this super sweet farewell blog from Tiny House Netherlands. Lena and Laurens van der Wal had a Tiny House website and we merged it. In 2016, Koen Derksen, Monique van Orden and I founded the Tiny House Nederland foundation. Natasja Oosterloo and Gerbrand van de Weg joined in and many others. I organized the Tiny House Nederland Jamboree with Natasja in 2017. What a blast that was! And I have never worked with anyone as well as with Monique van Orden. How wonderful that we can spar, take action and cross off items from our to-do list.
The Tiny House Nederland Jamboree in October 2017 in Almere Poort
We organized general meetups and initiative group meetings, created a fantastic website full of information, lobbied national, regional and local politicians, and gave the Tiny House community a platform where people could meet each other online. We have put Tiny Houses on the map in the Netherlands and made it possible for more people to live in Tiny Houses – legally and in line with our goals. What a wonderful time I had with these driven, passionate and selfless people! I learned so much, laughed so hard, sometimes also cried a little. I am very grateful that I was able to experience this, and also that I was able to play such a strong role in the Dutch Tiny House movement.
The first initiative group meeting, July 2018 in Culemborg
Now, don't think you're not going to hear from me ever again! No, I will remain a Tiny House pioneer and ambassador. Through my company Marjolein in het klein and TinyFindy I will continue to inspire, support, advise and facilitate. I still love Tiny Houses and the philosophy behind this form of housing, and I will continue to promote it. I will also remain an ambassador for Tiny House Nederland. In any case, I will continue to go on Tiny House road trips with Monique! I hope we will always be partners in crime.
On a Tiny House road trip with Monique van Orden, forever partners in crime
However, the voluntary work – my role in the core team as project leader of the foundation – is coming to an end. Five years of giving, I feel, is enough. I need space and energy for new projects. As you have read in my previous blog, the latest project has already presented itself, and I definitely need some time and energy for that too! And then … then I want to spent time gardening, gardening and then doing some more gardening. From the veranda of my house, I want to enjoy that garden and all the life it attracts. I am so excited about that. Writing and gardening. And not to be working so hard anymore. I think I will get there.
Tiny House Netherlands core team day, February 2018
Dear core team and all volunteers of Tiny House Nederland,
Thank you very much for all the cooperation and your fantastic commitment to Tiny House Nederland. You all are very special people and I hope the entire Tiny House community realizes how much work you are doing. Voluntary work – in addition to work, family, your own Tiny House projects. If all that hard work hadn't been done by you, there wouldn't be as many people living in Tiny Houses as there are now. You all deserve a medal, a round of applause, and so much more. You don't always get appreciated when you do this kind of work, and yet you still do it. I thank you for that from the bottom of my heart <3