The date has been set. I am going to hand over my beloved Tiny House to her new owner on September 11th. The preparations for the tiny move are in full swing! Now you may wonder: "what's there to move if you live tiny?" But that might surprise you.
Outdoor stuff
Although I don't have a lot of stuff in the house, over the course of the five years that I've lived here, some stuff has accumulated outside the house as well as inside. Like a woodshed, for example, where I store my firewood. That's just a cubic box on its side with a roof on top, under which the chickens also like to shelter when it rains. I would like to take it with me, but it's big and cumbersome. Perhaps it would be more convenient to look for another wooden box in the vicinity of Olst. My apple tree in a large tub, a planter with a trellis, some baskets with plants, and a bee hotel also have to come.
Then there's my outdoor wood stove, although I brought it from my previous home. Of course, I have put up a greenhouse, which I will leave for the next resident who comes to live here with his own Tiny House. But its contents, about 60 jars and a trestle table, go with me. I will eventually have a new greenhouse to fill and all the space I need to sow. My lovely deck rocking chairs have to come along, of course, and so does my hammock stand. In the communal storage room are also some things, such as my bicycle, night briquettes for the stove, a small barbecue (which I never use, but who knows in Olst) and my generator.
The man who comes to live here after me has no objection to my leaving things behind — in consultation, of course. He also has some input. So, the helophyte filter, the water tank, the greenhouse and the vegetable gardens remain behind. All the plants I have put in the garden and of course the garden fence too. Perhaps the latter needs to be partially dismantled when the houses are moved. Crazy, moving houses! :)
Chickens!
I am leaving my huge chicken coop behind. I found someone at Stadsfabriek Alkmaar willing to build a beautiful new chicken coop (thanks Nicolette and Arne!), which is smaller and more manageable than the old one. It has turned out to be a wonderful coop! And it is completely made from recycled materials. With the help of a friend, I brought it to Den Helder last week, where it is now located in the garden of Bo and Annemiek. They live there in a Tiny House and are willing to babysit my chickens for a few months. I am 100% sure that they will take great care of them, because, like me, they love animals very much. I bought a movable run online so that the chicks have all the space they need in Bo and Annemiek's spacious garden. Now I just need to think about when I'm going to bring the chickens over. I will miss them!
Inside stuff
Books, clothing, kitchen stuff, office stuff — it's all much, much less than the average home, but still… if you have to pack it all, it's quite a lot. So, I've arranged to have 20 moving boxes, which will probably go a long way. My mattress is the largest object that I must move with its 1.60 by 2 meters. But luckily, I have dear friends with vans, so that will be fine. I also take zero furniture with me. Everything is pretty much built-in, and I think the rest belongs to the house. Therefore, the refrigerator, wood stove, even the desk chair, they all stay behind.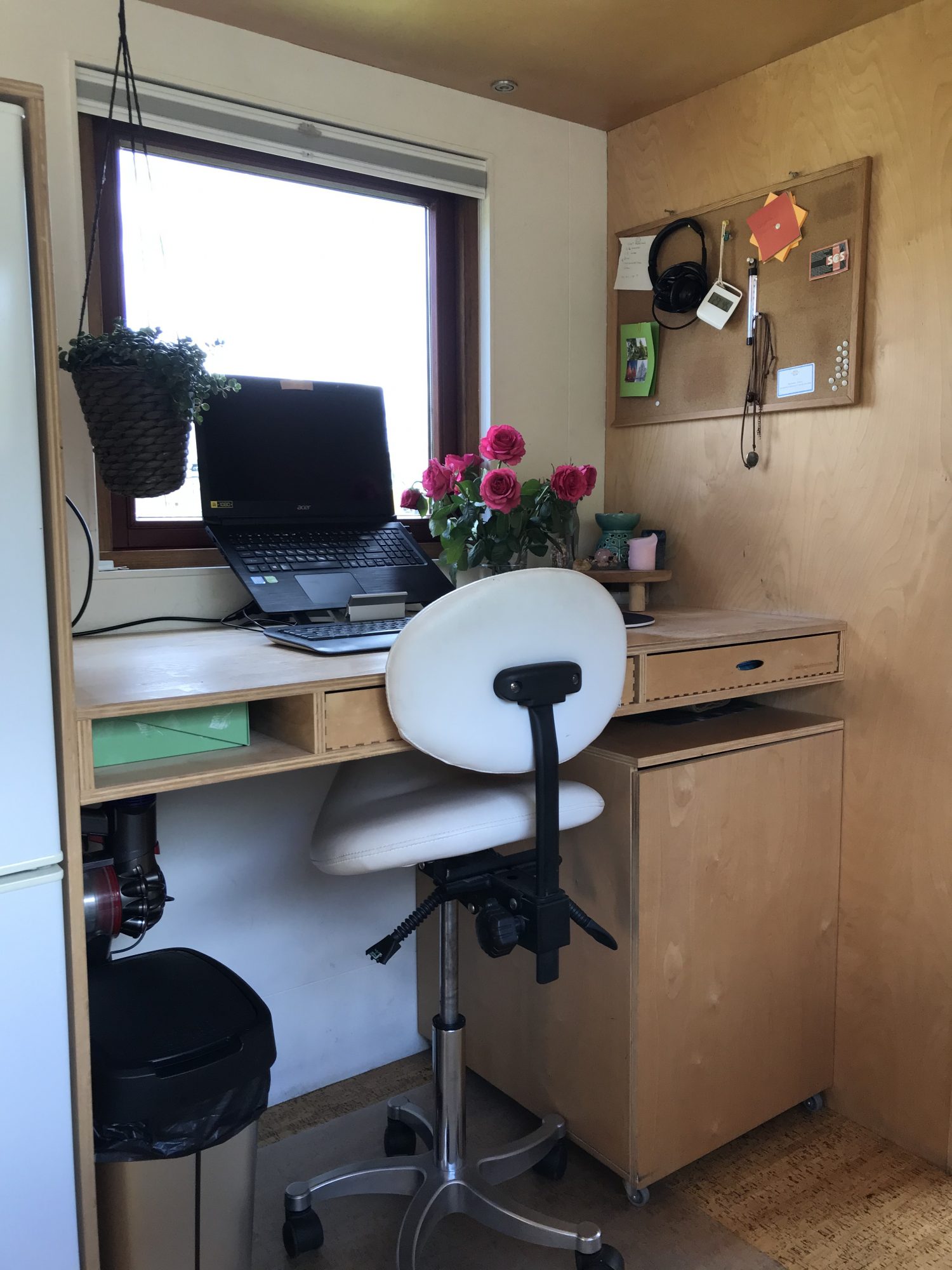 Storage
I'm going to live in my mother's house for a while until it's sold, and I have to think of something else. I will only take the bare necessities with me there. The rest goes into storage until my new house is ready. I'm still aiming for March next year. I have rented a storage space in Deventer as of September 1st, so almost all my stuff will be temporarily stored there.
And further
There were bricks piled up under my house to keep the wind from blowing under it. I took those away. There were still some things under the porch that could go to the dump; that also happened with the help of a friend with a van. And now? Now I must wait until the week before September 11th. Packing will be done in no time I think, so there's nothing more I can do right now. Except dream about my new house! I'm already working on interior ideas. :) There will be another blog about that soon. And to enjoy my old house and the beautiful green surroundings. Picking blackberries for the last time. What an abundant harvest this year!
I'm sure going to miss it here… but I know what I'm doing it for. And I'm ready for change too. A new beginning. Exciting and fun! Hella, of course, has no idea what is hanging over her head. It's going to be tough for her, having to stay inside for a few weeks. And having to move twice or maybe even three times in the coming six months and get used to a new place. But we're together, so we'll be fine.