Is it really that different, cooking in a Tiny House kitchen? Well, there are some differences, but I can still make delicious meals in my kitchen. It isn't that small actually, since I chose a pretty sizeable kitchen for my little palace. Healthy cooking is important to me and I'm using my kitchen a lot. For that reason, I have a kitchen unit that is 2.45 meters in size, including a stove and an oven. I'm still really happy with my (little) Bruynzeel kitchen!
Some things are different. I don't have a dishwasher anymore and so I'm doing the dishes by hand. That doesn't bother me, because let's face it, I'm not producing that many dirty dishes by myself. Only drawback is that the dishes are sitting on the kitchen counter, until the pile is big enough to be washed. In the old days I could stash them in the dishwasher, out of sight. The girls from the Regenbooghuisje (the Rainbow House) found a solution for that: they're using one of the kitchen drawers to put away the dishes until it's dishwashing time. Clever! Unfortunately, all my drawers are already full. Maybe I need to declutter a little more…
I recently got rid of my juicer. I really love freshly made vegetable juice, but cleaning the damned thing was a lot easier when I still had a water connection and a dishwasher. Besides, I needed to make room for my Berkey water filter. So, off you go, juicer! I hope my neighbors from the Gasfabriek are happy with it.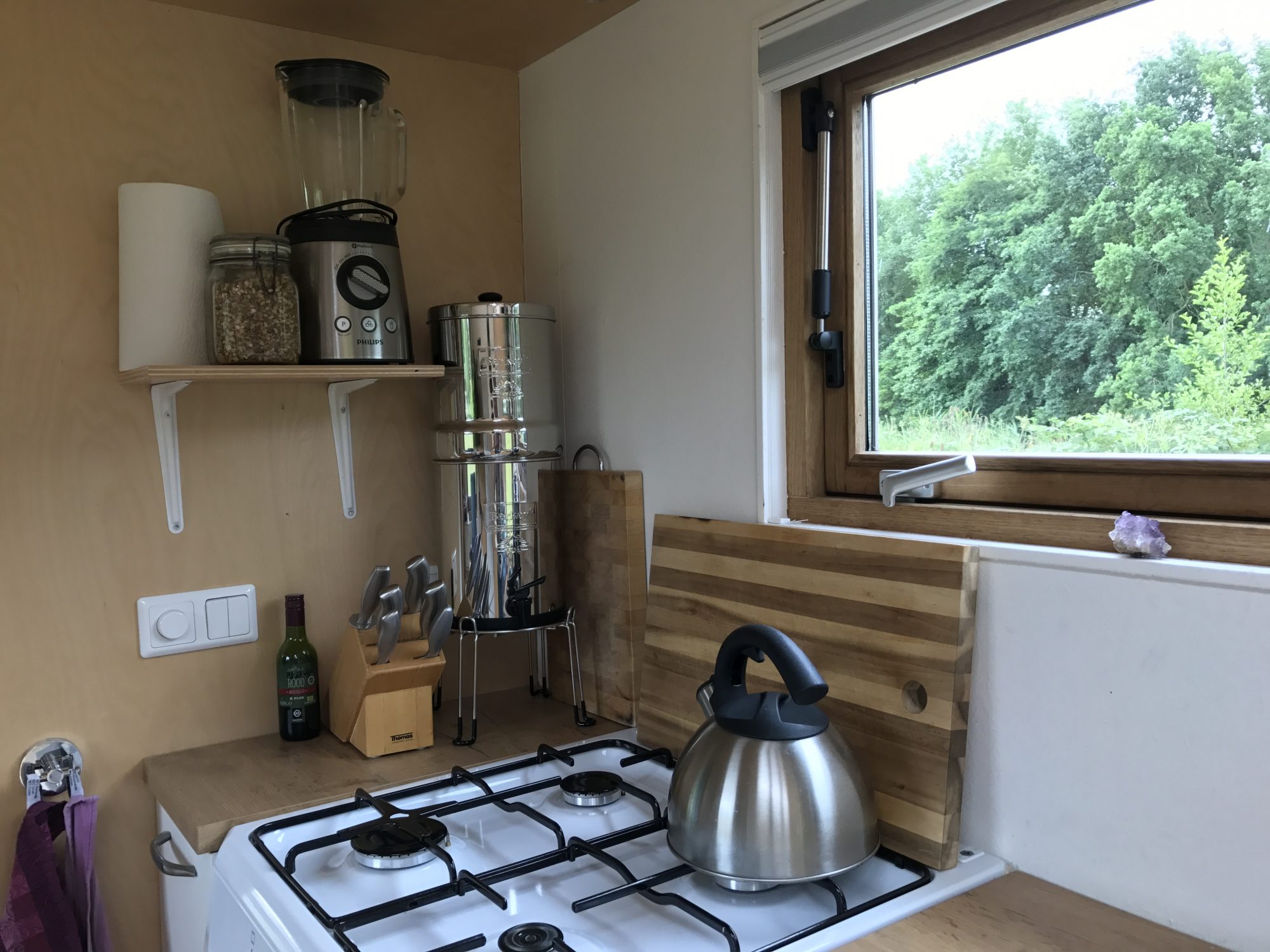 When cooking in a small house, you're producing a relatively large amount of moisture, which needs some place to go. I have a kitchen window which I crack open whenever I'm cooking or boiling a kettle of water. You can also choose a hood, but one way or another you need some type of ventilation.
I have a stove that is designed to work on bottled gas. During the summer months I use LPG, but in the winter months I use propane, since that's more low-temperature-resistant. Cooking on LPG and propane takes a little getting used to: the temperature gets much higher than with natural gas. So my burners are burning on low heat most of the time. The oven has been working fine since day one. I can remember the first time I was using it to heat up some cheese breads. What a delight, hot cheese bread in my brand new Tiny House! This clafoutis was also a big success, by the way:
When you're using three or four burners at the same time, the temperature in the house can rise pretty quickly, and the oven also generates a fair amount of heat. During the winter this is a big bonus. And in the summer…well, I can open all my windows.
I've chosen to have a fridge-freezer, even though I'm off-grid. The solar panels need to supply energy for all appliances and the fridge uses most of it. But it is possible. My fridge uses 109 kwh on a yearly basis and even including this appliance, I'm using less than 1 khw a day. I use the fridge and freezer a lot and I didn't want to go without. It's the choices you make, depending on what you want and need. When you don't eat meat and prefer to cook fresh and raw, you could do without. I like to freeze meals so I don't have to cook every day, and this way I throw away as little food as possible and I find that important.
I'm not connected to the sewer; instead I have a helophyte filter to purify my waste water. This still needs a grease trap, but I haven't been able to do this yet. So I scrape off the grease with a paper towel before washing the dishes. In a regular kitchen you don't have to take as much care with what you pour down the drain – although it would be an environmentally friendly act to be careful even when you are connected to the sewer. In the future I would like to replace my helophyte filter with a communal helophyte pond, sharing it with several Tiny Houses. But for now this is fine.
And what do I cook in the kitchen? A while back I wrote that I wanted to start choosing more vegetarian options, remember? I had noticed that I started slacking a little bit. And I'm not going to say that I'll never eat meat again, but I want that to be the exception, and not the rule. So, flexitarian. A while ago I watched the documentary 'What the Health', which made me come back to my senses. I don't believe everything they say to be the absolute truth, but I do believe that a plant-based diet is best for humans, animals and the planet. The thing is, I don't know how to actually cook vegan and I haven't got that much time to figure it out. So I decided to look for an organic, vegan meal-box. That way I can eat healthy meals with a variety of organic ingredients including the recipes, which saves me the hassle of deciding what to eat for dinner. And: I'm eating outside the (meal) box, because there are ingredients in there I wouldn't have bought myself. I thought vegan cooking would be hard, but it seems to be fairly easy. The meal box I ordered is from Ekomenu and it comes in on Monday. I can't wait! I chose the '3 meals for 2 persons' box, which allows me to eat for almost a week. Also they promise you won't be spending more than 30 minutes in the kitchen and that's a plus for me as well. I'll let you know how it turns out!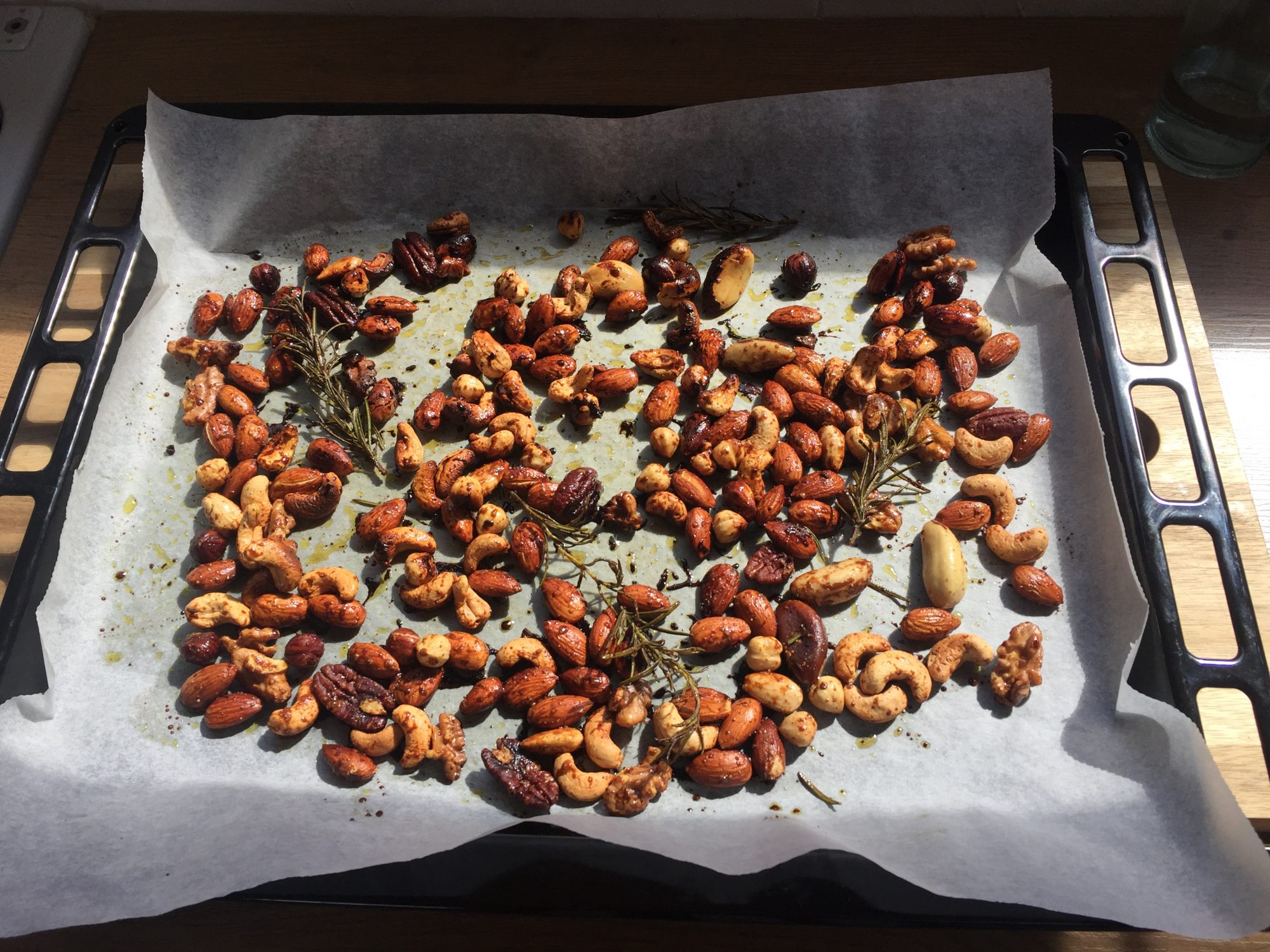 Oh, and where do I eat? Well, just with my plate on my lap on the couch. Or, when it's nice outside, at my table on the deck. When I'm having friends over, we can eat at the fold-out table that's hidden in the couch. Easy peasy. I'm going to collect some good recipes for a Tiny Cuisine blog soon. Don't expect anything fancy, but I usually do OK when I have the right recipe. To be continued! :)