Hi everyone, I'm back! Back from the sunny and insanely hot southern states of the USA. Lucky for me the weather is really nice here, so I can gradually adapt. Oh man did I have the best vacation ever! I can really dig southern USA. August may not be the best month to travel around there, but you gotta love America!
I've seen so much, I've done so many things, I've eaten so much (Hi, September diet month…), I had a blast. Together with Bram, a dear friend of mine, I flew to Houston to rent a car and from there drove to New Orleans, Memphis, Nashville and finally Atlanta. What a journey! It was my second time in the USA, and the more I see of it, the more I want to see. I don't know, the country and I just connect. I find the stupidest things interesting and fun, like walking around in a Walmart to see all the stuff you can buy there. I love the nature, the climate, the roads, the music, the people, the houses (although they're a little too big for my taste ;)).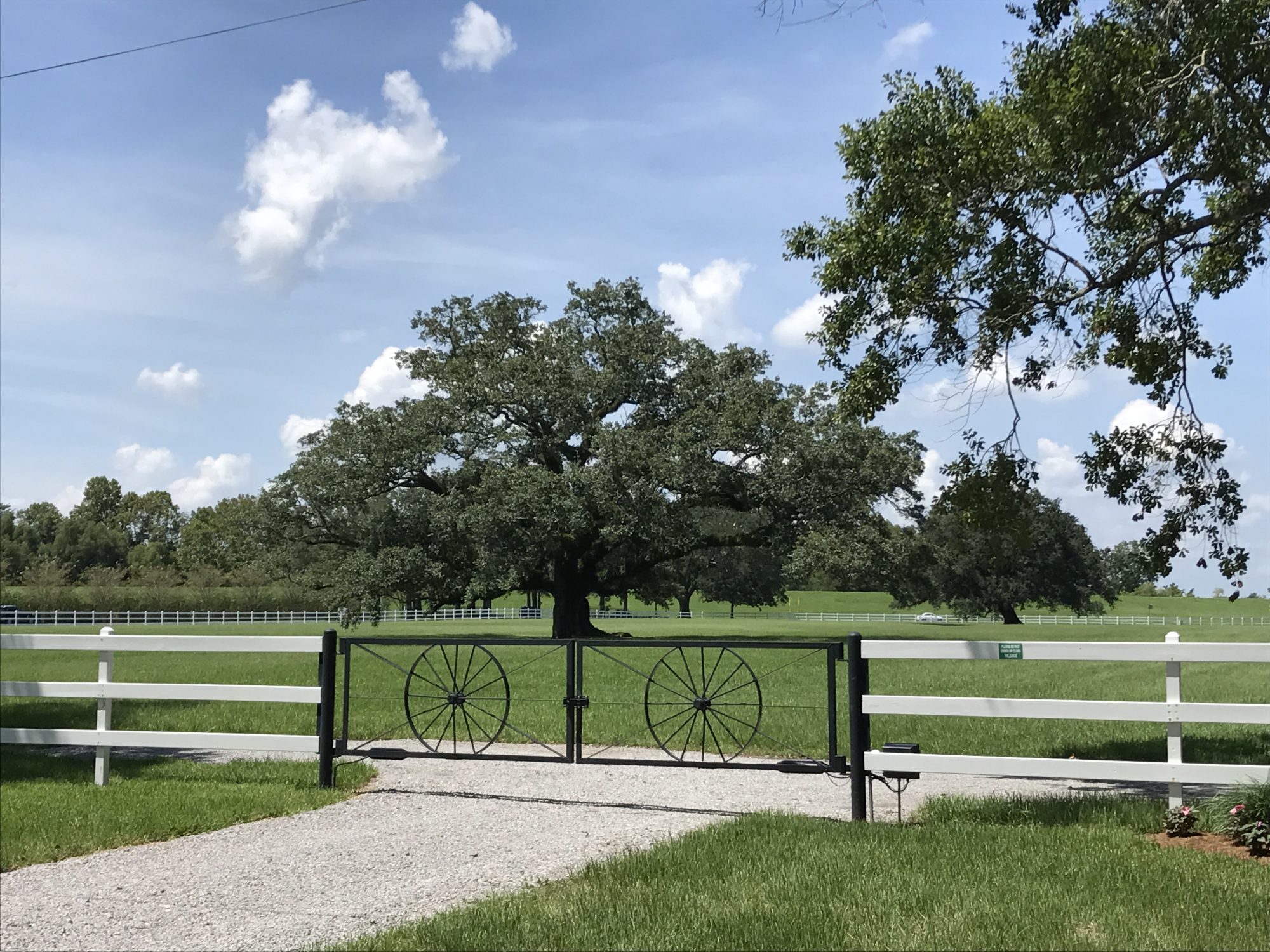 We had booked 5 Airbnbs and they were all fine. But the last one was heaven on earth. Ironically, we only spent two nights there. Ever since I was a little girl, I've loved the woods and wooden cabins in the forest. And this was it: that real 'cabin in the woods' feeling. Casey and Brandi own a gorgeous wooden house on a forest plot in Sandy Springs, offering peace and quiet, privacy and even a rippling creek. There are no neighbors nearby, it's hilly terrain full of trees and birds. A part of their big house is rented out as an Airbnb and it is pure heaven. Your own screened-in porch from where you can look out over the yard without being haunted by mosquitoes, plenty of luxury like two heavenly beds and two easy chairs that you just want to live in. It was so nice! But that yard…oh that yard…I really thought: this is it! This is what I want! How can I accomplish this? This is my dream; these people are living my dream…And the climate was so enjoyable! I'm not a winter person. I do enjoy the seasons, but I'd rather have just one month of winter and then bring back spring please. I prefer about 25 degrees Celsius. Georgia, I love you! And all those trees…now, what to do? Emigrate to America? Well I'm not so sure about that, it's not that easy. But one thing's for sure: I want to live in a forest! I've actually known this all along, but this has really rekindled the flame. I want my own piece of woods, with a creek, where I can really be Zen. Staring across the water and the trees, that is how I heal, where I can energize. The smell of the woods, the sounds of the birds and the rippling of the water. I love it so much.
Ok, earth calling Marjolein…and don't get me wrong, I'm also very happy to be back in my little home, and my place here is great. It makes me wonder why I can't ever be satisfied with what I've got. Why do I always want more, or something else? Is that something mankind is born with? Or is it something else…? I was really moved to tears by the nature I saw in America, over and over again. Maybe I need to contemplate on what that has to say to me. Maybe I need to take more rest, spend more time in nature.
Ok, apart from this realization and this last BnB, we've done and seen so many things. So here are a few highlights:
The eclipse! We got to see the total solar eclipse at the Nashville Zoo and oh my God it was extraordinary! And we didn't even plan it. It was a total coincidence that we were at the right place at the right time. If you ever get the chance to see a total solar eclipse, take it! It can't compare to a partial eclipse, trust me. That moment when the moon is entirely in front of the sun, when you can take of your glasses and look at the sun with your bare eyes, it's magical. It made me cry, and I wasn't the only one there at the zoo, on that lawn. Unimaginably beautiful.
Houston: a trip to the Science Museum. Bram went to the Space Center and found it really cool. I skipped it to go to downtown Houston and in hindsight I regret it. So if you're going to Houston, don't forget the Space Center!
New Orleans: a 'free tours on foot' hike through the Garden District and Lafayette cemetery, a ghost tour through Frenchman Quarter, a night out in Frenchman street. A visit to Oak Alley Plantation, fantastic! And of course, an airboat swamp tour. One tip though: don't order a 'hand grenade' in Bourbon street unless you want to get really drunk really fast… ;) Oh and our BnB in NOLA was awesome by the way – a Victorian cottage with the loveliest owner: Tazetta. Hot tip!
Memphis: Graceland! Visit to the house of Elvis Presley, and at night we went to see the finale of the Elvis Tribute Artist Contest. Ten finalists, the best from throughout the country and even some internationals. Fantastic! I've gained a whole lot of respect for Elvis. A visit to Sun Studio is big fun! Other than that, I didn't find downtown Memphis that special, but maybe it's because we went on a Sunday.
Nashville: Grand Ole Opry, the music theater where every night a radio show is recorded for as long as they can remember. If you happen to be there, get tickets for any night, because it's bound to be a blast. Great theater, brilliant sound, cool artists. A Music City Pub crawl is also really fun to do, I went alone, but that's a great way to meet new people. Oh, and I got myself some crazy fantastic boots… :D
Sandy Springs, Atlanta: this Airbnb. And I spent an afternoon at the Chattahoochee river at the Chattahoochee recreational area and it was wonderful. It's beautiful down there and it doesn't cost a thing.
There, and now it's time to get some stuff done; we can't party forever unfortunately. So much to do! For the Tiny House Nederland Jamboree for example, and for the workshops, lectures and so on. Have a great day everyone, have a good day at work!