Last Tuesday I went on a little road trip to collect information for the design of my future garden. I visited Esther and Arjan from Eetbaargoed.nl, went to look in the showroom at Tuinkassenwinkel.nl and made a stop by my future neighborhood, as I was in the area anyway. Making plans for the future is so much fun!
On the way I thought about what a privilege it is that I can do things like this, just like that. Plan a date, get in the car, and go. No consultation with an employer necessary. Such freedom! And I really consider it a gift, now that I get to leave my house so rarely because of Covid measures. Every outing is a gift, no matter how small. But this one was not that small at all; from Alkmaar to Vaasen – where my first stop was planned – was a ride of at least an hour and a half. But that was no biggie at all for me because I love the mission that Arjan and Esther from Eetbaargoed.nl have. In addition, Vaassen is not that far from Olst, so when I go back to buy plants later this year, it will be nice and close to my new home. That is very handy!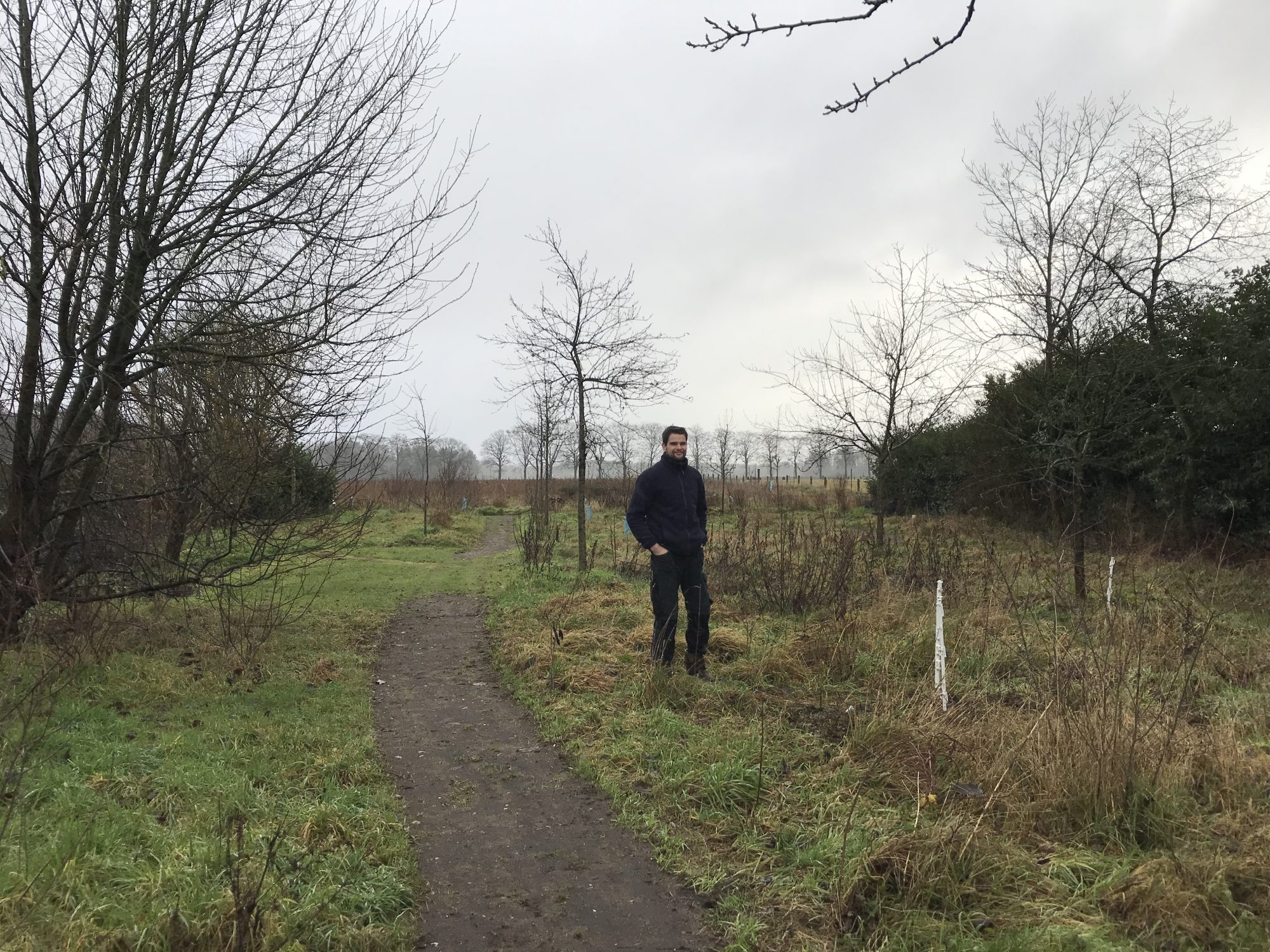 Eetbaargoed is a nursery that focuses on edible plants, shrubs and trees. They grow everything without the use of fertilizers and pesticides, based on permaculture, and in their own food forest. They also have a very varied assortment, with selected plants that do well in our climate. I was warmly welcomed and Arjan overwhelmed me for about two hours with information and ideas for my edible garden. What great enthusiasm and a wealth of knowledge that man has!
I had already done some preliminary work as you might have read in a previous blog, but I have now expanded my wishlist based on his suggestions. It includes varieties I had never heard of, such as the cherry dogwood and olive willow, which I am also very enthusiastic about now. And did you know that there are rowan varieties with fruits that can grow as big as a 2 euro coin that you can eat? Arjan guided me a bit in the varieties I had selected for the fruit and nut trees, and gave me a tour of the site. Of course, in January, it doesn't look as nice and green as it will be in three months or more, so I'm afraid I'll have to come back again. What a terrible prospect ..;)
Before I continued on my way to Nijkerk, I drove past my future neighborhood in Olst. Just to wave to my future neighbors from the famous earthships. There was plenty of time and while you're in the area, you might as well stop by, right? There is not much to see yet, of course. The place where my lot is at this moment looks like a large field with vegetation. The first materials and machinery for the construction of the temporary roads have already been brought in. That work will begin one of these days. Yet it was nice to be there again and to see the surroundings. Marloes and I are already looking forward to the beautiful walks and bike rides that we will be taking in the area.
Onwards to Nijkerk, where Tuinkassenwinkel.nl has a showroom that makes you drool as soon as you walk in. What beautiful wooden greenhouses! I would love to have a shed and a greenhouse on my lot. I am only allowed to have 10 m2 of outbuildings, even though the footprint of my Tiny House is only about 16 m2. And a greenhouse is counted as an outbuilding. However, I did some research on the internet and came across the solution: a beautiful combination of a shed and a greenhouse! I am completely in love with it, even though it will take a big chunk out of my budget. Still, the image kept floating in my mind and there weren't many alternatives, so I asked if I could see a show model of the Alton Fusion greenhouse. That was possible, and there it was … Well, it's just beautiful and it is exactly what I want within what is possible on my lot. I had a nice chat with Reinier who also turned out to be a Small Living fan. Okay, I think this is going to be it! But first I must have an environmental permit, only then can I make actual purchases for my garden. I drove home in a pretty good mood as you can imagine.
Armed with all this new knowledge, I was able to complete my planting plan and it is ready to be sent to the quality team of the municipality of Olst-Wijhe. Tonight, we have another residents' meeting in which we will hear more about progress; I expect that I will send in my package of documentation tomorrow. From Aart at Buro Ruiter I received plot layout and location drawings, from Antti from at AHAD plan drawings and structural design drawings of my Tiny House. I have written a document myself in which I have described how I am going to comply with the nature-inclusive and circular character of Olstergaard. Exciting! I can hardly imagine that they could find fault with it, but we will see. I'll just assume the positive :)