How quickly things can change. At first, I planned to move my Tiny House to my plot in the Olstergaard.  However, advancing insight has made me realize that I would prefer another house. Therefore, I'm going to sell my Tiny House and live in a regular house again…
… Fooled ya! No, not a word above is a lie. But the part about living in an 'ordinary' house is only temporary. I have decided to have a new Tiny House built in Olstergaard! That undoubtedly raises a lot of questions for you, I understand. I'm going to explain.
When I was drawn for a plot in the nature-inclusive, circular residential area of ​​Olstergaard in Olst-Wijhe, I jumped for joy. I was planning to move my Tiny House with me. I also knew that it was not yet a given that my Tiny House would receive a permanent environmental permit, but I was not afraid to enter into that process. My house now has a temporary environmental permit, here in Alkmaar. But for Olstergaard it must be licensed as a new building. I do not meet those requirements, especially when it comes to insulation values. It could well be that there is a way to work around that and the municipality of Olst-Wijhe is making every effort to facilitate me and other future Tiny House residents of the Olstergaard. But in the meantime, everything was quiet and there was nothing for me to do but wait and see… I don't play the waiting game very well. A plan B began to take shape in my hyperactive head. Just in case…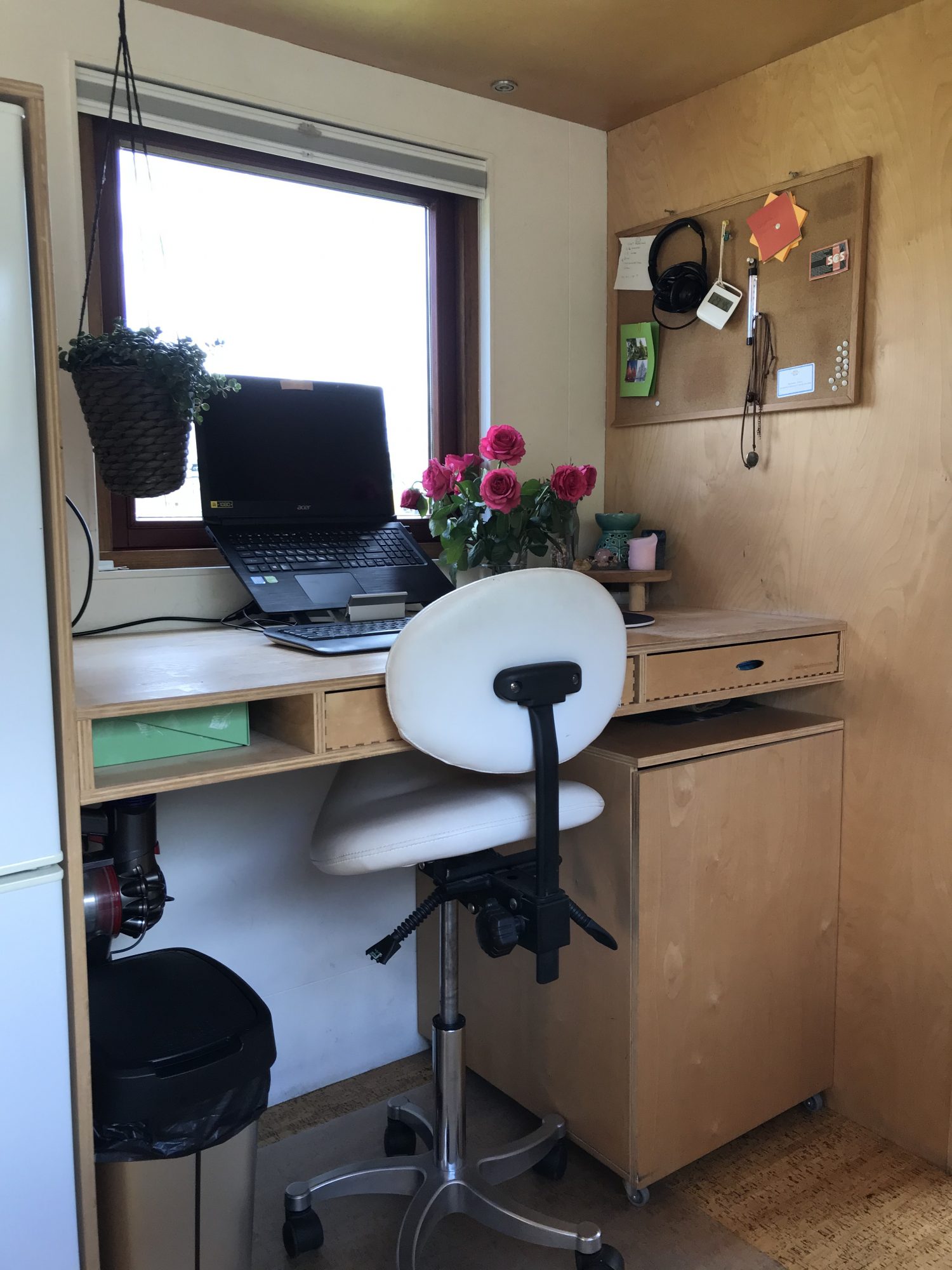 That plan B that had been secretly haunting me for a few months already. It reared its head every now and then, but I quickly pushed it down under again because I thought it was too ambitious: to build a new Tiny House. As much as I love my current house, I don't know if I can live in it for the rest of my life. I am now five years (older) further along in life and have gained a lot of insights. I'm still fit and spry now, but will I be able to climb those stairs when I get older? I suspected that I would have a new house built in the future anyway. Wouldn't it be smarter to do that now, and turn it into a Tiny House for all ages? With a bedroom downstairs? Yes, of course, that's smarter. But it must also be possible, financially speaking. I wasn't so sure about that yet.
Anyway, time to do some research. Since the Woonpioniers posted their beautiful 'Sprout' on TinyFindy last year, I have fallen in love with this design. A Tiny House plus greenhouse! That really is heaven for a gardening enthusiast like me. I have spoken with the Woonpioniers and the Triodos and if I can sell my current house for a good price, then I will succeed. It's going to be tight, but it's possible. And I gradually became so enthusiastic about this idea that I decided last week that I should just go for it. Regardless of whether my current house can be licensed or not in the Olstergaard. So that's what I have decided; to just do it!! "Break the button, flip the switch." Wooooooo!
Oh boy what am I getting myself into yet again. So much is coming at me now! But it also gives me a lot of energy. I hardly sleep anymore, hahaha! Really, my head is spinning overtime. But how awesome is this going to be… Having my dream house designed and built for the second time; how incredibly cool is that! It also feels fitting. I've experienced the temporary, movable version of the Tiny House, now I'm going for the permanent version. And learn along the way everything that comes with building like this, which I can share with you all. I will of course do that! Write about everything I experience.
But that also means that I  need to sell my precious house and that is quite a difficult thing to do. I am tearing up as I write this. It's such a lovely house. But I'm sure it will make someone else very happy; and my new house will be fantastic too. Although my new house won't be finished until the end of this year or early next year, I already have to sell my current house to free up the money. So, I must live elsewhere temporarily. Hence the 'I'm going to live in an ordinary house again'. ;) I can temporarily live with my mother until October, then she will also move, and I will have to think of something else. I'm sure everything will be fine. I may already have a babysitting address for the chickens and Hella will of course accompany me wherever I go.
So, folks, this is your chance! If you are interested in my iconic Tiny House, take a look at the offer on TinyFindy. Never have I thought that I would put my own house on TinyFindy, but there she is. What a giant leap. What an adventure. Tomorrow I have my first design session with Menno of Woonpioniers. It is so very fitting in all sorts of ways that they are going to design my new house, but more on that later. In any case, it will be a super local project — built in Olst!