Every now and then I hear directly or indirectly from municipalities that they doubt whether there is any interest in the idea of living in a Tiny House. Sometimes it is specifically about living in outlying areas – areas outside urban agglomeration – where facilities are less accessible. Sometimes local councilors or civil servants think that there is nobody at all in their municipality who wants to live in a Tiny House. This is a wrong assumption in all cases. Yes, really. All cases. Time for some numbers!
The municipality of Alkmaar has granted an environmental permit for a pilot project consisting of five Tiny Houses for five years. Behind my house that you see in the centre of this photo are another four Tiny Houses. Chickens roam in the communal garden.
At the beginning of this year I started my Register for (aspiring) Tiny House residents. This is because finding a residential location is by far the biggest challenge for people who want to live in a Tiny House. And also because it is quite a job to keep an eye on what is happening in the country when it comes to creating new residential locations. And since I am already keeping an eye on developments in the Tiny House movement in the Netherlands through my company and interest anyway, why shouldn't I share that knowledge? This saves people an enormous amount of time. 650 people are now members of my Register and I have a pretty good idea of the provinces where they would like to live. Each registered member can specify a maximum of three preferred provinces and although the urban agglomeration is by far the most popular and the shrinking regions are obviously less, there is enthusiasm everywhere. Let me list the numbers for you:
Province:
Number of interested people

:

Groningen
23
Friesland
27
Drenthe
47
Overijssel
70
Flevoland
33
Gelderland
218
Utrecht
239
Noord-Holland
233
Zuid-Holland
195
Zeeland
44
Noord-Brabant
142
Limburg
43
Interesting, huh? In addition, I have more beautiful, recent evidence for you. On October 30th I made an appeal for potential Tiny House residents for a new project to be started in Overijssel. Anneke and Jeroen want to build a food forest there in combination with Tiny Houses, in collaboration with the Tiny House residents. The municipality had doubts whether there would be enthusiasm for it. I said to Jeroen and Anneke: let me write a blog about it and make an appeal, then you will see…
The result: as many as 285 registrations from enthusiastic (aspiring) Tiny House residents. These people had to fill in an extensive questionnaire and provide a motivating reason, and they did that enthusiastically. The stories are heartwarming. People are anxious and yearn for an opportunity to live in this way: being satisfied with enough, more connection with nature and with each other. Reading those reactions moved me enormously!
I think that all of this is sufficient evidence to show that there is a great deal of interest in this way of living, both in the countryside and in the shrinking regions. In fact, there is interest everywhere. I have given numerous lectures throughout the country in the four years that I have been promoting the Tiny House movement, and I have stood in front of only a handful of people once or twice. The turnout is usually much larger than the organization expects.
The presentation that Monique van Orden and I gave in Den Helder in September 2016 was the start of the permanent Tiny House residential area that is currently being realized by Woningstichting Den Helder.
The Tiny House train continues unabashed; the movement grows and grows. That is not surprising, given the ongoing developments in society: climate change and other serious environmental issues, a housing shortage, more and more small households, the elderly who have to live longer at home, a growing aversion to consumer society, and individualism, to name a few.
So far so good. Here are a few more numbers that demonstrate the interest in Tiny Houses. For the Tiny House project Lutje Westpark, the municipality of Groningen received in no time at all more than 600 applications from interested parties who want to be considered for a place. Housing Association Casade in Waalwijk received more than 200 registrations within two days from people who want to live in a Tiny House. Research shows that one in five tenants is open to living in a Tiny House. My Tiny Housing Association Tiny House Alkmaar has a waiting list of more than 400 aspiring residents. TinyFindy attracts more than 650 visitors daily, who are interested in buying a Tiny House or looking for a residential location.
Therefore, municipalities of the Netherlands, I conclude that you really do not have to doubt the enthusiasm. There is a strong growing need for housing options for Tiny Houses. And there are now several successful pilot projects in the Netherlands that demonstrate that it fits in with current regulations. The  Tiny House Netherlands Foundation is working hard on a new website where a database of these projects will be found; we hope to launch it before the end of the year. There are always questions when a municipality is considering facilitating Tiny Houses. In most cases, an answer to these questions has already been found, a solution has been devised. So, check in with me and/or Tiny House Netherlands. We are here for you!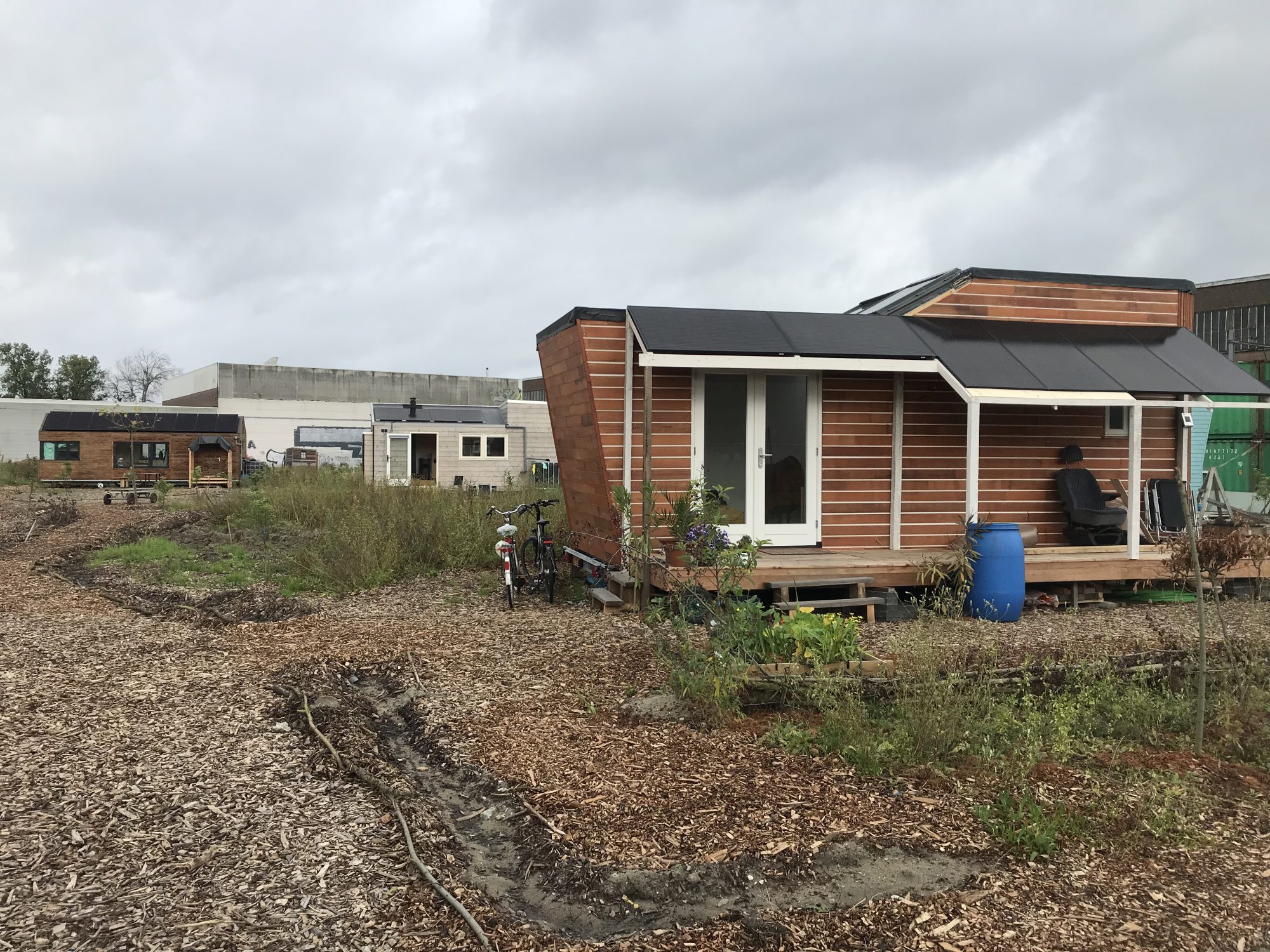 Tiny House housing project in Delft